RC10 supported INMED workshop "eDemocracy and Political Communication", Dubrovnik (Croatia), 24-26 May 2010

INMED Workshop, "eDemocracy and Political Communication" supported by IPSA was held in Dubrovnik, Croatia at the Inter University Center from 24 to 26 May 2010 and was organized by the Institute for New Media and eDemocracy in partnership with DEL research network.
The Workshop was part of the annual Information Technology and Journalism conference organized by the Faculty of Political Science in Zagreb and the Institute for New Media. It was supported by IPSA's Research Committee 10 on Electronic democracy.

Download : Dubrovnik_2010_Program.pdf

Download : Dubrovnik_2010_Report.pdf

Presentations available here
Program
Monday, May 24
10:00 - 10:30:
Registration
10:30 - 11:30:
Opening (Conference Goals and Themes) - Prof. dr. Nenad Prelog, InMED – Institute for New Media and E-Democracy, Croatia
11:30 - 12:15:
Classification of political communication videos on YouTube - Dr. Domagoj Bebić, InMED – Institute for New Media and E-Democracy, Croatia
16:00- 16:45:
Citizens, journalists, politicians and the Internet – Dr. Susan Salgado, Foundation to Science and Technology and New University of Lisbon, Portugal
16:45- 17:45:
Round Table
Tuesday, May 25
09:30 - 10:15:
Croatian Presidential Elections on the Internet – Ms. Maja Dodić Gruičić, Croatia
10.15 – 11.00:
The Adoption of Blogs and Blogging Practices by Political Candidates: The Case of Finland – Mr. Tom Carlson and Mr. Göran Djupsund, Abo Akademi University, Finland
11.30 – 12.15:
Online Political Citizens During Presidential Campaign for 2009 in Romania- Mr. Andra Seceleanu, "Andrei Saguna" University, Romania
16.00 – 16.45:
Local e-society in Poland – the role of e-administration and e-government in creating local network society - Mrs. Ilona Biernacka-Ligieza, University of Opole, Poland
16.45 – 17.30:
'Baseej have guns we have brains' The Sea of Green on Twitter – Dr. Daniele Salerno, University of Bologna, Italy
17.30 – 18.15:
Negative camapagning on the Internet in presidential elections in Croatia in 2010 (student paper) – Katarina Andrić and Maja Popović, Faculty of Political Science, Croatia

Wednesday, May 26
9:30 – 10:15:
"The Rumor Bomb" - Prof. Jayson Harsin, The American University of Paris, France
10:15 – 11:00:
Talking Politics Online: The State of Net-Based Public Sphere Research- Dr.Todd Graham, University of Groningen, The Netherlands
11:30- 12:15:
Empowerment through Technologies: "parties of power", public protest and the internet media in Ukraine – Mr. Oleksandr Svyetlov, National Academy of Science, Ukraine
12:30 – 13:15:
Is This Goodbye to Ethics in Journalism? An Analysis of African News Coverage in the Internet Age – Mr. Bruce Mutsvairo, University of Hull, UK
13:30 – 14:15:
Closing remarks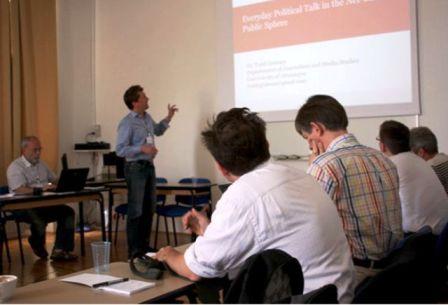 Todd Graham's presentation.
Published on Friday, August 6 2010 by Stephanie Wojcik