05Jul 2021
08:51 - By Karen Mossberger - Publications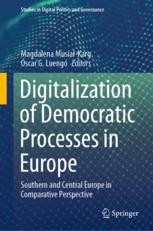 Latest release in the book series "Studies in Digital Politics and Governance" by Magdalena Musiał-Karg and Óscar G. Luengo: "Digitalization of Democratic Processes in Europe - Southern and Central Europe in Comparative Perspective".
This book explores the digital transformations of democracy and democratic societies. It examines the various challenges posed by these transformations in the context of political practice and to theoreticians of democracy and political communication. The authors present studies from different countries, related to various effects of digitalization processes. Topics covered include, but are not limited to: Innovation in civil society research, new forms of civic participation, new dimensions of democratization and local governance processes, political changes and public participation, civic and political activities, political campaigning or other
phenomenon driven by the implementation of information and communications technology (ICT) into politics. Therefore, the book is a must-read for all scholars and researchers of political science, practitioners, and policy-makers, interested in a better understanding of digital politics, digitalization processes, and democracy in general.